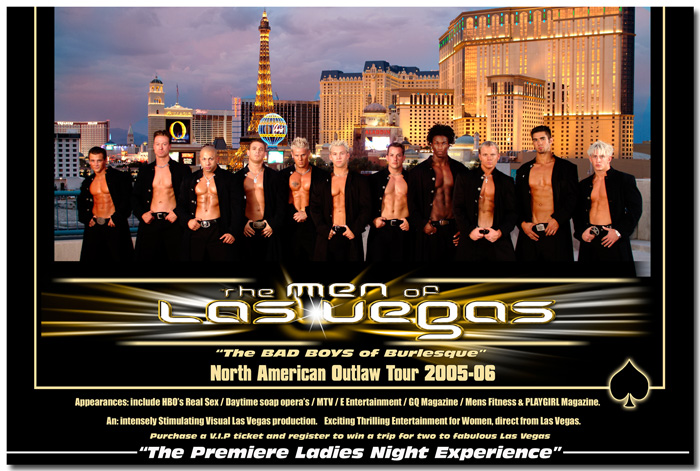 Okay, we're gonna keep it clean and "G" rated on here. I just think that these guys deserve a good review, and I had trouble finding info on them before I went to the show. First of all, let me say that my friends and I had a fabulous time! This is much more than just a strip show to see naked men! From comedic acts to fireplay, to the incredible choreography, it was well worth the measly $8 we paid for each ticket. A three hour act, I feel I can only begin to highlight some of their "skits"! I'm sure each show has some different choreography, but these are a few things I enjoyed the most and a few things about a couple of my fav guys!

First of all the announcer (Infinity)is a sight to behold in himself, and I must say, he has no problem getting the crowd going! You'd have to search to find a ounce of body fat anywhere on him! In fact they're all very well defined body-wise, and after you see their dance routines, you'll know how they keep in such great shape! Nice brown eyes and brown hair, and a great voice to boot. I especially enjoyed the fireplay (he sets himself on fire!) and he looked great dressed up as a cowboy, leather chaps and all, and later on in his baggy skull pants. I had a quick chat with him after the show (sorry, won't reveal private convo) and he comes off as a definite down to earth guy!

Genuine: The sweetest male dancer you would ever know. (Hey Genuine, you cutie!) A bad boy, and a babyface all in one, I'm sure he will be one of the sweetest guys I will ever meet! The face of your best friend's gorgeous brother, with blonde hair (and I think they were) blue eyes and a great attitude to boot, this youngest of the group has no problem charming the ladies!

Draven: If you ever see the show, you will know why he is a great performer, but why I cannot say a whole lot about him and keep my website clean! This guy is more flexible than I was at about 5 years old! He also has biceps about the size of a normal girls waist!

Don't get me wrong, the rest of the guys were great too! (Gavin, Shaun, Ceasar, and I'm sorry, but I know I'm forgetting one!)But I could go on forever! Needless to say, if you have the chance, you should go see this show!!!

---

Help me win a free gift!
If you have seen Infinity's picture in Playgirl magazine, please e-mail me which issue he is in!!!!


---